The Birkenstock shoes go back more than 225 years. This footwear is created to achieve the most excellent comfort when standing and walking.
Birkenstock`s Models for Men, Women and Kids
TATAMI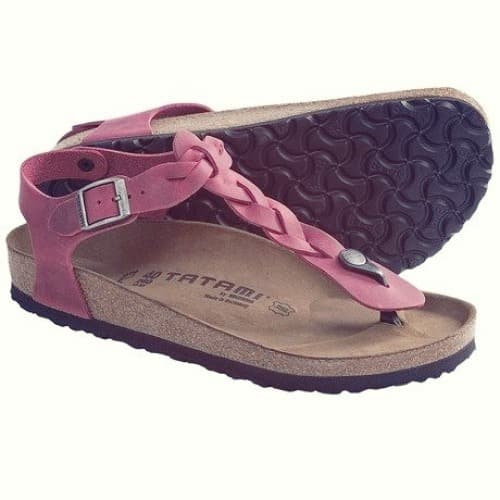 Crafted from soft, pliable leather and resting on the classic, quality footbeds, Tatami sandals and clogs are the perfect partnership of form and function.
BIRKI'S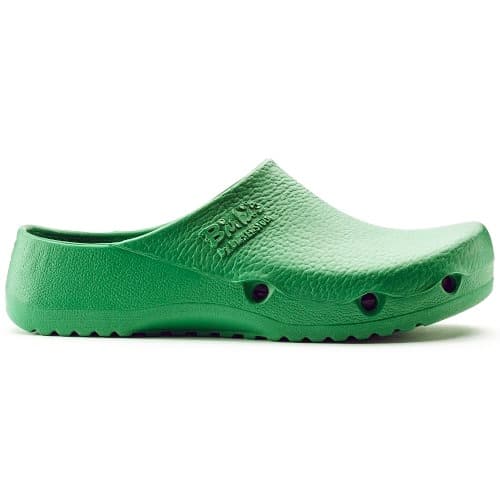 Birki's offers quality, comfortable and fashionable sandals, slippers and clogs in a variety of colours and designs for every member of the family.
BIRKI KIDS
This line also offers legendary quality and comfort, but specially crafted for little feet, to ensure proper alignment and optimal support.
PAPILLO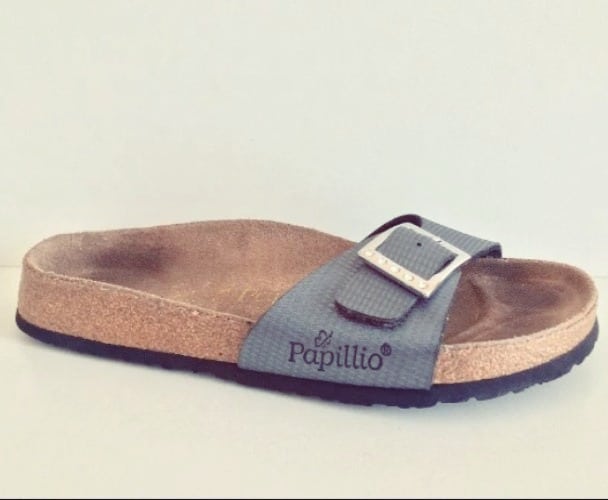 Papillio is a colourful and fashionable line, featuring the original Birkenstock footbed.
FP BY BIRKENSTOCK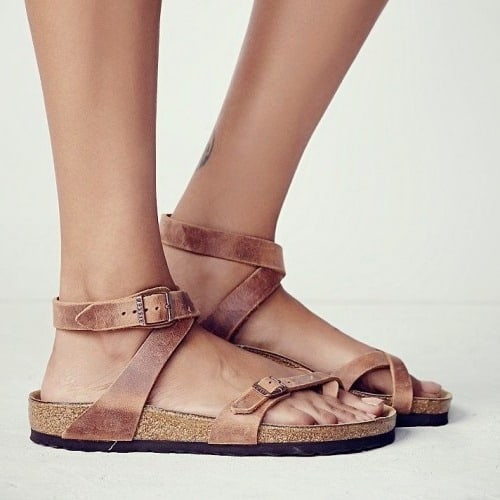 FP by Birkenstock offers a variety of men's, women's and children's footwear, closed shoes, clogs and boots.
During a lifetime, no other part of the body is subject to so much strain as our feet. They maintain the body's balance, absorb impact and bear the entire weight of the body. Birkenstock footwear is designed to offer optimal support.
«Quality craftsmanship to better support your feet…and improve your health.»
Birkenstock Shoes – Fitting Tips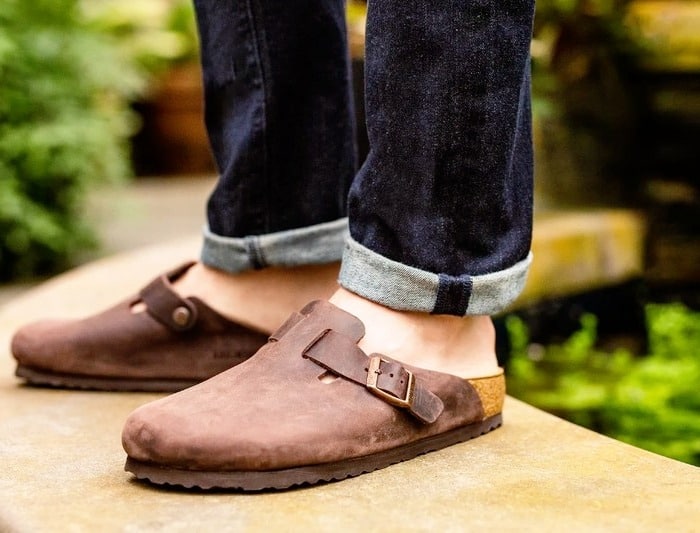 When making your purchase, please note the correct width symbol: normal width for standard or sturdy feet and narrow width for slim feet. Your feet should sit embedded in the footbed, meaning that you must not be standing on either the inner or outer side of the footbed rim. Also, you should have several millimetres of space in the heel and toe areas to allow your feet to move freely and naturally with each step you take.
For a shoe to fit perfectly, it must have the proper length and width – which is why the Birkenstock footbed is produced in two widths.
Birkenstock's sandals: 8 steps to healthy comfortable feet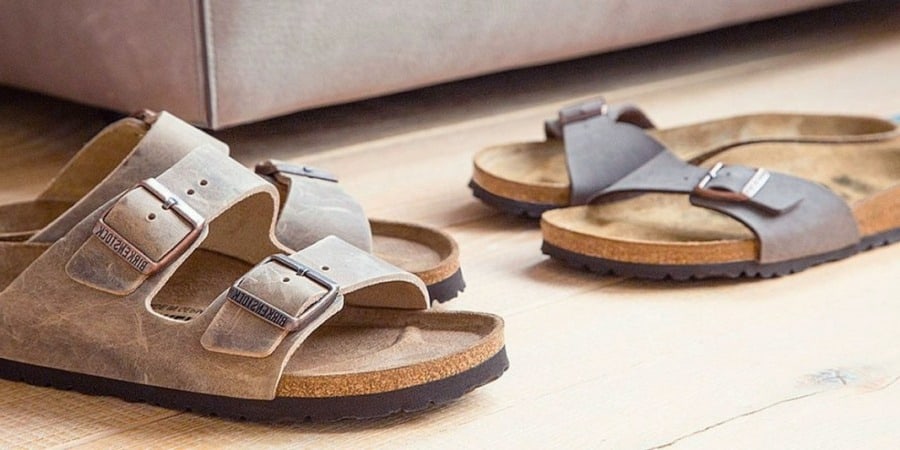 More Toe Room: Allows toes to move naturally, which promotes better balance and overall toe health.
Raised Toe Bar: Encourages the natural gripping motion of your feet while exercising your legs and improving circulation.
Contoured Footbe: Mirrors and supports the shape and contours of a healthy foot. The four arches ensure even weight distribution.
Deep Heel Cup: A neutral heel profile and deep heel cup keeps natural padding where it belongs and promotes natural spine alignment.
Shock-Absorbing Sole: Flexible, durable, lightweight, shock resistant and replaceable.
Jute Fibers: Two layers. One wicks away moisture, the other adds strength and makes resoling easy.
Cork Footbed: Firm, resilient cork/natural latex base gives your feet the support they need.
Footbed Liner: Soft suede, which keeps your feet comfortable and dry.
Care Tips Birkenstock Boots
Apply cork sealant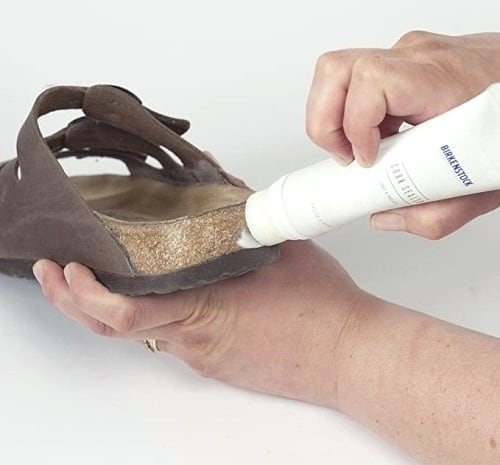 Your new sandals already have a light coating of sealant to prevent the exposed cork from drying out. If the cork no longer looks shiny, apply another thin coat of flexible sealing material. Done periodically, this application will prolong the life of your Birkenstocks.
Clean and protect uppers
Apply water and stain protector to leather, suede and nubuck uppers before wearing and after each cleaning. Keep suede uppers fresh looking with a suede brush. When the upper becomes soiled, use mild soap suds or clean with a commercial suede cleaner. For nubuck, use a nubuck block. Clean and condition leather with high-quality neutral leather creams; use matching leather polish to cover scuff marks. Wipe Birko uppers with a damp cloth.
The inside of the footbed may also be washed with mild soap suds and a soft brush. Dry slowly, away from heat, to prevent cracking!
Avoid extreme heat!
The Birkenstock sole has been carefully selected for its superior qualities. It is lightweight, flexible, durable and shock absorbent. However, both the cork and soles can be damaged by exposure to excessive heat. Keep your sandals away from radiators and fireplaces. Never leave them in a closed car on a sweltering day, or on the beach exposed to direct sun.
If your sandals become wet, let them dry slowly, away from direct heat. If the soles should become damaged or worn, they can be replaced. Ask your Birkenstock retailer for assistance.
Colorfastness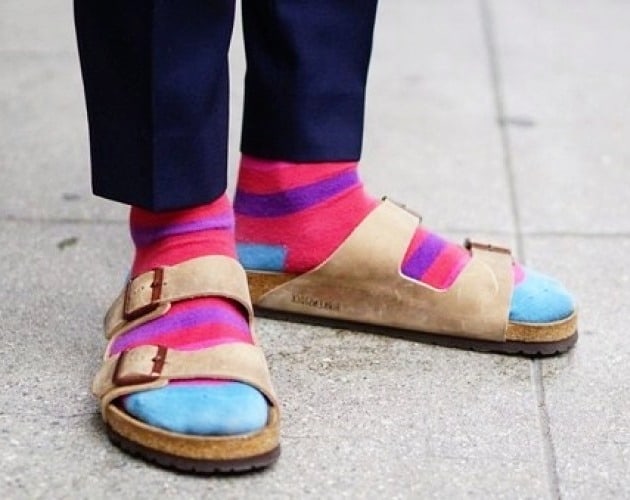 Although we only use the highest quality leathers and test them for colorfastness, any dyed leather may shed some colour. Please be very careful with delicate or light- coloured socks, especially when your footwear is new.
Repair
Birkenstock footwear has been constructed using only the highest quality materials and can easily be refurbished.
Protect your investment and prolong the life of your sandals with Birkenstock heel and toe taps. Repair your sandals with original Birkenstock soles before they have worn through the cork footbeds. Cracked cork is easily repaired as well. Remember, a stitch in time saves nine! Contact the nearest Birkenstock retailer or see your local repair shop.
About Birkenstock
In 1774, the German shoemaker Johann Adam Birkenstock had the vision of offering comfortable insoles that promote healthy feet and thus laid the foundation of our anatomically shaped footbed insoles. Today, after over 230 years of great innovations, new footbed insoles fill more and more people with enthusiasm daily.
In the 1960s, Birkenstock's introduced its "Fitness sandal", thus answering the needs of an ever-growing number of consumers looking for comfort, quality and a different kind of footwear. By ensuring that the foot is supported properly, these sandals improve the posture of the entire body… which ultimately leads to an improved level of well-being. Many collections were developed to answer the specific needs of its clientele; our medical clogs, for example, are adapted to the needs of the healthcare sector worker.
Birkenstock enjoys enormous success and growth, offering many different styles of sandals and shoes distributed in over 80 countries.
Environment
«When it comes to protecting the environment, Birkenstock has always been a leader.»
The inspiration for Birkenstock products is drawn from nature. Consequently, the preservation of the environment has always been of crucial importance to us.
As early as 30 years ago, Birkenstock reduced energy consumption significantly by adopting new technology. In some processes, such as leather stamping, Birkenstock has reduced energy consumption by 90 percent.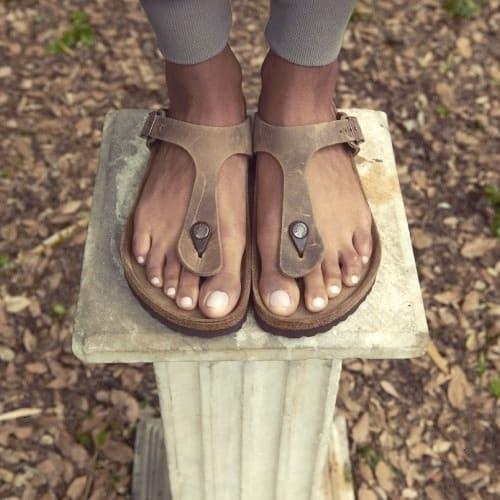 In the mid-1980s, Birkenstock was one of the first manufacturers worldwide to use almost exclusively water-soluble and solvent-free adhesives in production.
Using mainly natural and renewable materials – such as cork, leather and felt – is another environmentally friendly aspect of our production. As an example, one of the materials we use is a cork from cork oak bark. Cork has impressive characteristics: it is light-, heat- and cold-insulating, has an antibacterial effect, absorbs moisture and has a high degree of elasticity.